Ben Wheeler, a small town like so many others, faced a bleak future after World War II. G.I.'s returning from the war moved with their families to the big cities. This consolidation of population in the metropolitan areas left fewer people to support local business and local schools. In turn, the very fabric of society and a sense of community were slowly but inexorably diminished.

The future, if not bright looked like the towns along the railroad in 1895. As the Annual Announcement of the Alamo Institute, a four year college located in downtown Ben Wheeler described, "We have a quiet little village in which no intoxicants are sold. Our people are cultured and hospitable, and welcome students to their homes and churches, Baptist and Methodist. "Our desire is to cultivate an educational sentiment in the community, and in order that we may accomplish this essential, we ask the hearty co-operation of the entire community."

Only nineteen years earlier (1876) a post office was established in the home of George W. Clough. It was named for Benjamin (Ben) Wheeler. Mr. Wheeler had been contracted to carry mail from Canton to Edom, Texas. Mr. Clough's home, being about half-way between those two towns provided Ben Wheeler a place to stay overnight and water for his mail-toting mule. Mr. Clough later built the first store in Ben Wheeler, also he and his neighbors built a school house on his land.

By the year 1919, Whitworth Manning, wrote in the first published history of the area:

Situated in central southeast Van Zandt County is a promising little burg. Located in a rich farming country, where can be produced a greater variety of stuff than any other part of the county. It is on Dixie Highway, has a daily mail from Chandler on the Cotton Belt Railroad, has a well-kept little bank in a substantial brick building, two churches, two cotton gins, one corn mill, a telephone system, good substantial, well-kept stocks of merchandise are offered to the public. A newspaper.

The town derived its name from a pioneer mail carrier, Benjamin Wheeler. It is surrounded by gushing springs of pure limpid water. Well-to-do farmers make up the citizenship in that immediate locality. An annual fair is held there and the collections are taken from there to Tyler and Dallas Fairs and the Ben Wheelerites carry off many prizes.

By 1920 the little town that could, had. There were three automobile garages, a drugstore, bank, hotel, cotton gin, two mercantile stores, a grocery store, 2 service stations, 2 feed stores, 2 physicians, a hardware store, 2 churches and a Masonic lodge. But the failure of the community to entice the Cotton Belt Railroad (which connected its neighbor to the east, Tyler, Tx. with Shreveport, La., further east and Dallas, some 75 miles west) to route its tracts through town was a sign of changes to come.

After the war, when the slogan, "you can't keep the boy on the farm" was coined, the "boy" followed the rails to the city. And Ben Wheeler began to slide. Slowly at first, gathering speed when its school was closed on January 18, 1968, and both its local bank (First State Bank of Ben Wheeler) and its post office moved from the historical downtown area (Hwy. 279) out to the newer State Highway 64. Hard times for both the physical and social components of the town, set-in. People moved out following jobs schools and transportation options. Their homes became houses in need of paint, the stores now without customers, closed. In 1992 the last remaining school building, a gymnasium which had functioned after the 1968 school closing as a community center and roller rink was intentionally burned as a fire fighting exercise!

Today the townsite proper of Ben Wheeler is identified by eight surviving buildings, the earliest circa 1915 and the latest built around 1930. The largest of these structures and the one figuring most prominently in the town's history is Moore's store (see photo). J.J. (Fat Daddy) Moore opened his 6,500 sq. ft. mercantile store in 1933. And until the store closed in 1992, Moore's sold everything needed for day-to-day life in the country. Shoes lined the north wall, along with a row of theater seats customers sat in to try on the merchandise. Horse collars hung on the back wall, along with BB guns, shotguns, 22's and ammunition. Coal oil (kerosene) was pumped from a metal drum out back where a water well and trough supplied the teams of horses that some farmers continued to use right up to the War. Mr. Moore had a reputation as being tight with a dollar but old timers still remember that he gave them penny candy while their folks shopped.
Behind Moore's store is an old potato shed. Sweet potatoes were the primary crop of this area until the 1960's and many buildings trace their roots to store houses of yams. Many buildings throughout the area, wooden and brick, served as storage facilities for sweet potatoes. Some were built for that purpose, others converted to that use. The 1,500 sq. ft. building adjacent to the rear of Moore's store appears to be the latter.

Further behind Moore's store is the concrete slab that establishes the site of the old Ben Wheeler School (grades 1-12). Adjacent to that site is the area where the Alamo Institute was located. Generations of people in this area spent years of their youth playing in the pine trees and creeks that enclosed the area around the schools on three sides.

It was those two creeks that the Works Progress Administration (WPA) chose to line with native rocks and concrete in the early 1930's (see diagram). Over one-half mile of creek bottoms/sides were stabilized (and beautified!) by an army of local workers trained by skilled masons. Proof of their competency is seen some 75 years later in the well-preserved, structurally–sound stone work.



Ben Wheeler Arts & Historic District Foundation, a non-profit 501 (c) (3) corporation, was created by Brooks and Rese Gremmels to serve as the vehicle for reconstructing, not only the physical aspects of Ben Wheeler, Texas but perhaps, more importantly, returning a sense of community and to the town by providing it with various outlets through music, art, history, education, entrepreneurship, basic civil service and philanthropy.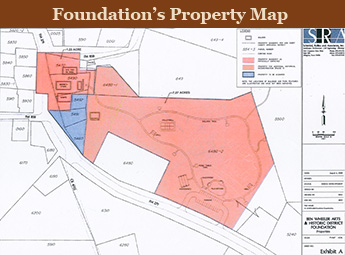 Art, Music & Entrepreneurship
What has transpired out of their original goals is a downtown resurrected through some of the key aspects they wanted to weave into it, since the onset of their vision. Today, you can stroll through downtown and have a place to eat, shop and play through the doors of revitalized and rehabilitated buildings from the old downtown and surrounding areas.
History & Education
The Gremmels' efforts to provide and maintain the town's historical integrity continued with the arrival of the old, Elwood Schoolhouse. Moving it in sections, the old schoolhouse began making its way to town at the end of March 2010. Since opening its doors, The Foundation has been able to host multiple events and perhaps most exciting -- it's been able to establish a library for the community. The doors of the library opened in mid-November 2011.
Since the passing of Brooks, The Friends of Ben Wheeler have done their best to pick up where he left off and strive to make the town he dreamed it to be. We hope you enjoy our town as much as we do.