Hours
Thursday: 2 - 5pm
Saturday: 10am - 2pm
History
Moving it in sections, the old schoolhouse began making its way to town at the end of March 2010. Since opening its doors, The Foundation has been able to host multiple events and perhaps most exciting -- it's been able to establish a library for the community. The doors of the library opened in mid-November 2011.

As the home to The Community Library of Ben Wheeler, people young and old now have a place to utilize for their studies on Thursdays and Saturdays. They are also encouraged to select five books to keep upon each visit.
Programs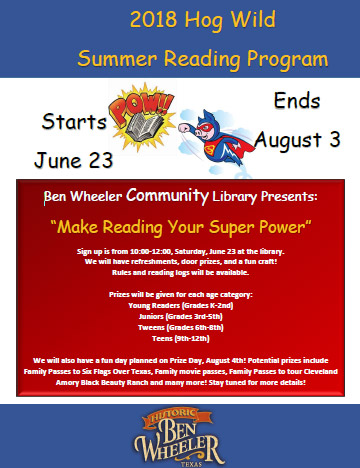 Volunteering
We are always looking for dedicated volunteers to assist the Ben Wheeler Arts and Historic District Foundation to oversee book check outs, sort through book donations, rotate literary inventory, supervise events, and many more activities! For more information, email benwheelerfoundation@gmail.com or stop by the library during open hours! Click here for the application.
Rental
Did you know that you can rent out the library for events? It is a great venue for baby showers, club meetings, art shows, and many many more options!!! Email benwheelerfoundation@gmailcom