Ben Wheeler Arts & Historic District Foundation, a non-profit 501 (c) (3) corporation, was created by Brooks and Rese Gremmels to serve as the vehicle for reconstructing, not only the physical aspects of Ben Wheeler, Texas but perhaps, more importantly, returning a sense of community and to the town by providing it with various outlets through music, art, history, education, entrepreneurship, basic civil service and philanthropy.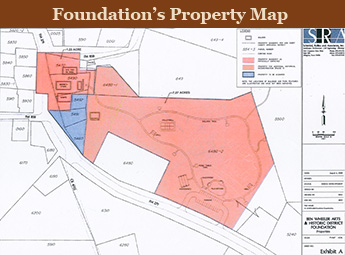 Art, Music & Entrepreneurship
What has transpired out of their original goals is a downtown resurrected through some of the key aspects they wanted to weave into it, since the onset of their vision. Today, you can stroll through downtown and have a place to eat, shop and play through the doors of revitalized and rehabilitated buildings from the old downtown and surrounding areas.
History & Education
The Gremmels' efforts to provide and maintain the town's historical integrity continued with the arrival of the old, Elwood Schoolhouse. Moving it in sections, the old schoolhouse began making its way to town at the end of March 2010. Since opening its doors, The Foundation has been able to host multiple events and perhaps most exciting -- it's been able to establish a library for the community. The doors of the library opened in mid-November 2011.
As the home to The Community Library of Ben Wheeler, people young and old now have a place to utilize for their studies on Thursdays and Saturdays. They are also encouraged to select five books to keep upon each visit. Library hours are Saturdays,10 a.m. to 2 p.m. and Thursdays 2 p.m. to 5 p.m.
Community Contributions...Donors Needed!
We are working hard to step into the next phase of development in Ben Wheeler, which would include adding a park, a new driveway for the Community Library and other initiatives, but we need your help! If you're interested in offering a grant or endowment to help support the efforts of The Foundation, please call Rese Gremmels at 903.833.1060.