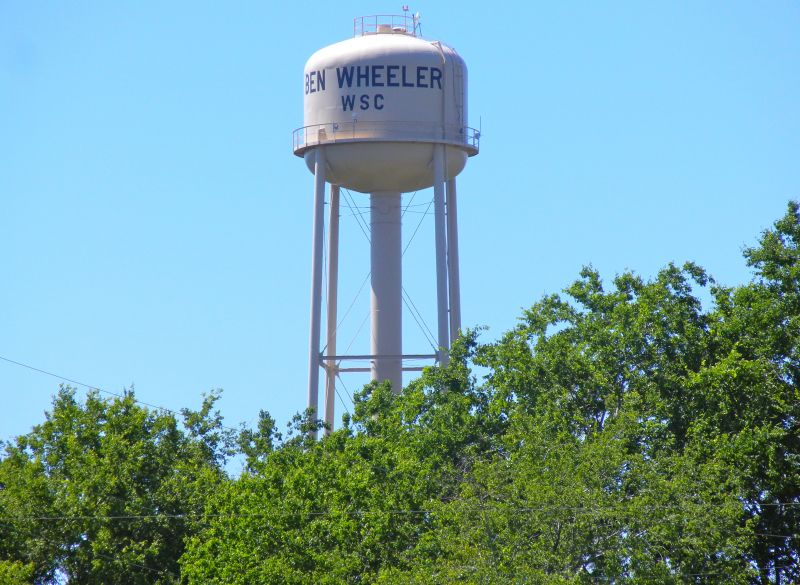 Additional Lodging in Our Area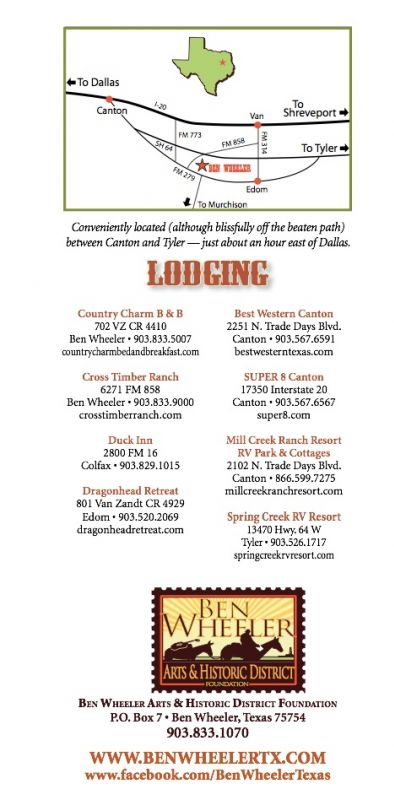 * Please call the lodging source's listed number for more information.
Made in America Emporium in the News:
The Boss Hog, Brooks Gremmels, talks about Hog Fest on Fox 51
Mouse & The Traps Reunion in the Tyler Morning Telegraph
Click here for: Ben Wheeler Sewer Project News
The County Line Magazine
By Tom Geddie
The rejuvenation – some would call it a reincarnation – of tiny Ben Wheeler is beginning to win worldwide attention for its can-do attitude and its infusion of new culture into the region. It's not the only town doing so – several downtown successes come to mind; several more are stirring – but it's the newest and has, in many ways, come the farthest in the shortest amount of time.
The compact downtown area – 16 acres including tree-filled park land off Hwy 64 in Van Zandt County – includes two restaurants that also host music every weekend; several galleries, other retail shops, and businesses; the old Elwood School which houses the Half-Pint Library for children and teenagers, and Harmony Chapel, a restored church building that will host an international songwriters' show on March 9.
The intertwining of the international music show and the international attention are coincidental, but show the kind of serendipity that can accompany the hard work of the Ben Wheeler Development Company, the Ben Wheeler Arts & Historic District Foundation, and local residents.
A group of students in a master's degree program studying innovation and organization of culture and the arts at the University of Bologna, which dates back to the 11th century, decided to do a study of Ben Wheeler because one of the team members, Peggy Ryan, shared her own research from a study she did at Carnegie Mellon University in Pittsburgh.
"I specifically study cultural advocacy, and I began utilizing the story of Ben Wheeler often after learning about it in one of my classes," Peggy said. "I use it as a tool for advocacy, as it is one of the clearest examples of the positive effects of cultural policy, due to a clear causality. With my program at Carnegie Mellon, I would often pay visits to Pennsylvania and California senators and congressional representatives, and Ben Wheeler would be a story I would speak to them about, depending on the interests of the politician I was talking to."
Peggy's interests include use of culture to bring communities together and using the arts as an economic driver.
Students in an urban planning class at the University of Bologna were asked to choose any city around the world and illustrate how the city used the arts or cultural heritage in some way to benefit the city. Most students chose major cities such as Barcelona, Berlin, Milano, and Paris; Peggy's group chose Ben Wheeler.
Another student, Luis Remelli Faulkenberry, said Ben Wheeler offered a chance to "do something different" as a perfect example of urban planning based on personal involvement.
A third member of the team, Beatrice Spallaccia, said the study showed how Brooks Gremmels, who owns the development company and operates the foundation with his wife, Rese, "has managed to intrinsically understand where culture exists in our lives, what culture means, and how to support this culture for the purposes of supporting people and improving their quality of life."
She said the group's work will remain significant as a tool for advocacy.
"We would like to put together more sophisticated communications illustrating the cultural policies Brooks has created, and how these are significant and replicable," Bea said. "Once back in the United States, I would like to continue to keep in contact with Brooks, as his voice at a conference for Americans for the Arts or the National Mayors' Association would be an important representation for his work and for others to begin to learn from it."
Brooks called the study gratifying.
"First of all, it's flattering that people have noticed what we're trying to do here. Not just the obvious – opening a few stores – but a sincere effort to breathe new life into a community that was fading. We've really tried to let the community choose its path."
He told the students that the thrust of their studies into public service, cultural policy, and heritage preservation cover are the same ones he sees as challenges.
"Our long-term success will be measured by how effectively those very components are understood and addressed," he said. "This really has taken more selflessness than I would have thought I possessed. A more personal agenda would have been seen through and soon sabotaged by the old-timers around here."
Because Ben Wheeler is one of perhaps 1,500 towns in Texas that is unincorporated, there is no city charter, mayor, city council, nor zoning laws to slow someone down from turning ideas into realities, aside from public opinion.
"I am at the point now where the core pieces are in place in terms of the tangibles such as the physical rebirth and intangibles such as the attitude that we're all in this together. I believe that these components are strong enough today to carefully influence the next chapters of the town's life. If I don't make sure that the issues that you are studying are explored and management invested with the tools to carry on in the spirit that has been revived, I don't deserve much of a legacy."
Brooks, a Tyler native who retired to the Ben Wheeler area from Dallas, said he intends to spend much of 2012 on sharpening management and staff focus of the properties rather than on much new construction, although that can always change if the right opportunity presents itself.
"At first when I started buying and tearing down old worn-out structures around here, local residents were skeptical," he said. "They wanted to know who I was and what I was up to, and I didn't have a good answer about my goals. I didn't have a plan at first. But we held a 4th of July party in the city park – offering free hot dogs, ice cream, and live music – and almost 2000 people showed up. Folks came up to me all day, some with tears in their eyes, saying they hadn't seen their neighbors in years. I told Rese that night that I knew what I was supposed to be doing with my life. That's when I started making plans."
Bea said that during the study's presentation at the university, the group's professor was primarily interested in the sustainability of these efforts.
That's something Brooks has also mentioned that concerns him.
He formed an advisory group consisting of the local bank owner, the owner of the largest employer in the area, the city secretary of a neighboring community, and three local residents.
"This committee is exploring . . . whether to endorse the idea of incorporating the town and most importantly – and related to the idea of finally incorporating – my succession. There is no debt on anything and the businesses are beginning to prosper, but if something happened to me at this moment I'm sure it would deliver a shock to the system and leave too many important questions about the future direction muddled."
One of the lessons that Brook has learned, he said, is that immediacy is important.
"There will be some kind of good out of this foundation we've laid," he said. "The abiding feeling I get from this study is that it gives some credibility to what we are doing when that many bright people are willing to take this amount of time to look at what we're doing. We are being validated through this attention we are receiving, and I think it portends some things in the future that might be a whole lot of fun.
"I'm waiting for another shoe to fall. I am confident other people are going to pay attention to what we are doing here. It's unique, and you almost have to be on the outside looking in to see it all."